Welcome to Dance Motion Xplosion Dance Academy
The philosophy of Dance Motion Xplosion Dance Academy's (DMX) in Farmington, MI is to provide students of all ages with the skills to expand their vision of the world through dance for a lifetime. We provide quality dance instruction in an artistic and creative environment using the various forms of dance expression such as tap, ballet, jazz, lyrical, hip hop and gymnastics. Providing a positive environment where students are encouraged to strive for excellence to the very best of their own ability is our primary student goal.
DMX Will be performing at the Detroit Pistons Game Friday March 17th
Join us and cheer on our dancers
This is a fundraiser, a portion of ticket sales will go towards
Dance Motion Xplosion
Follow the information below to purchase tickets and contact the front desk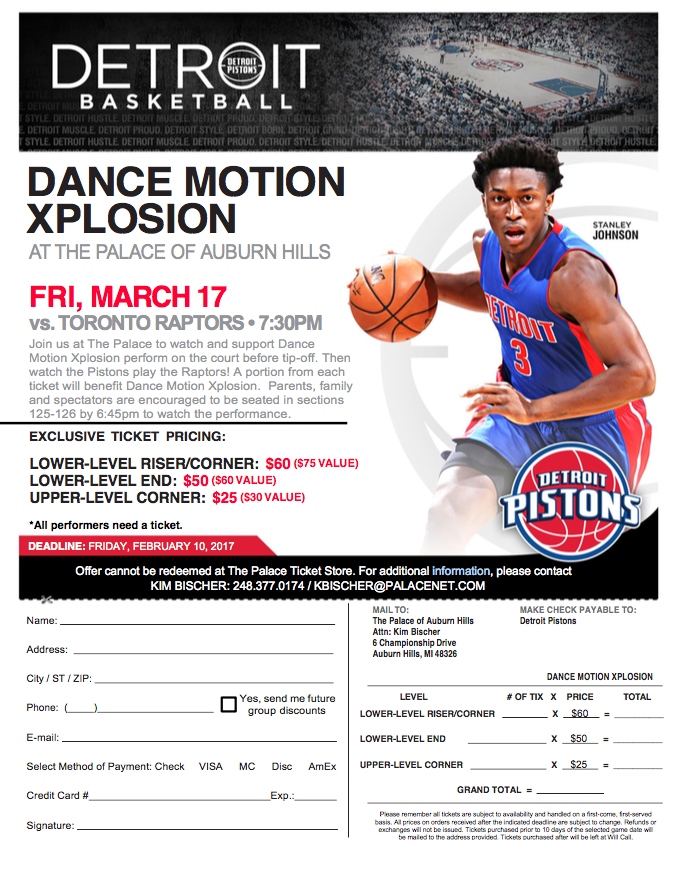 Save the date for our Spring Recital
"Taste of Oz"
Saturday June 17, 2017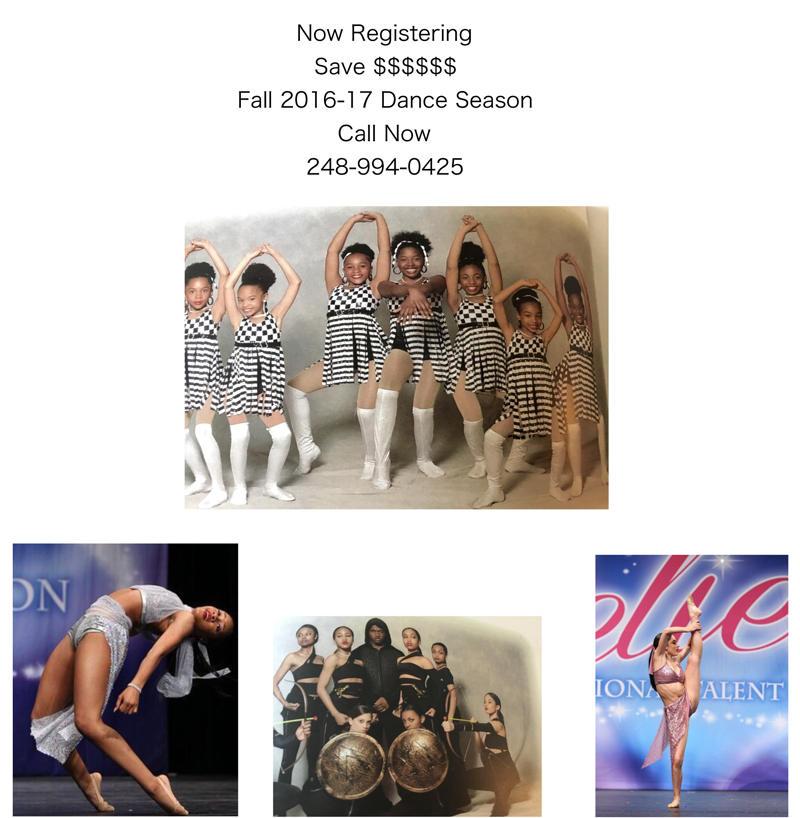 REGISTRATION DAILY
Our Rates
1 Hour Class

$50.00 Per Month

1 ½ Hour Class

$62.00 Per Month

Unlimited Basic Classes (3 or more)

$132.00 Per Month

Unlimited Classes including Ground
Zero Competitive Team Classes

$140.00 Per Month

Boys - if sibling is registered in the school

Free for 1 boy/ 2nd & 3rd boys
½ price $25.00 per month

Private Lessons

$65.00 Per Month ( ½ Hour Class)

$130.00 Per Month ( 1 Hour Class)

Adult Jazz/Hip Hop

$25.00 Per Month

2 Basic Classes

$95.00 Per Month

Ala-carte Ground Zero Classes

$55.00 each per month

Summer Camp Rate (8 weeks)

$200.00 entire program

Costumes per Class Christmas & Spring
Competition costume - Comp Team Only

$50.00 under 80 lbs. / $60.00 over 80 lbs.
competition costumes $10.00 more

Creative 3 & 4 (1 hour Class)

$50.00

Registration Fee/ September – April

$25.00 per family
PAYMENTS ARE DUE THE FIRST OF THE MONTH (1ST THROUGH THE 7TH) $20.00 LATE FEE APPLY AFTER THE 7TH OR 7 DAYS AFTER PAYMENT DUE DATE FOR THE MONTH
DMX PERFORMING ARTS ACADEMY PRICE CHART 2016-17
****Due to multiple extra classes provided, no month is pro-rated due to holidays or shorter months, the monthly fee is same all of the Dance year.
Make-up classes Chart will be provided to all classes.